It's Never Too Late to Begin Again
A Group for Women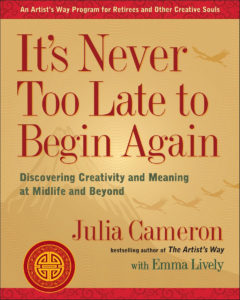 Are you asking yourself what's next?
Do you want something more, but you're not sure what?
Are things in your life that used to have meaning no longer satisfying?
Explore these questions and more in our eight-week series for women based on Julia Cameron's new book, It's Never Too Late To Begin Again.  Julia, the author of The Artist's Way, has written a powerful guide for "Discovering Creativity and Meaning at Midlife and Beyond."
"Gail's groups were always a very safe, nurturing and intellectually fascinating space with the message that each person become their best self."  ~ Carol
We'll use the tools from the book, expressive arts activities, and our shared experiences to enrich each others' lives. You'll find this class a safe and supportive community where you can engage with other women and discover meaning and creativity.
No artistic talent or special skills are required!
Express yourself creatively.
Find your voice.
Learn new ways to have more choices in your life.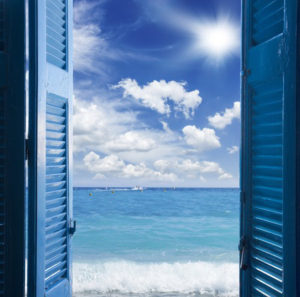 Please note that this is a women's group.  
Not sure if this class is right for you?  Please all me at 619.282.4730 or email me to find out more.       
Invest in yourself—refocus, redefine, and reignite your life!  Tuition for the eight-week series is $295.  A payment plan is available and just $50 holds your space.  New classes will begin in 2018.  Please contact me for information. 
"I would love to learn more from Gail and participate in more of her workshops.  She is a model of love and compassion and made me feel I was in the right place." ~ Sharon
Creative Aging:  Living with Purpose, Passion, and Possibilities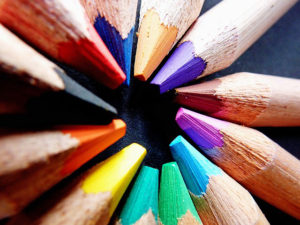 Mid-age and beyond is the perfect time to consider our past and explore our future. The stories, experiences and lessons we have accumulated give us a foundation to move forward with creativity and wisdom.
Join us for Creative Aging, a series of interactive workshops. We'll share important connections and conversations in community about resilience, relationships, and creativity in the second half of life. 
The six-month series begins Wednesday, October 4 at Congregation Beth Israel, 9001 Towne Centre Drive; San Diego, CA 92122.  Workshops are held on the first Wednesday of each month beginning October 4 through March 7, from 10:00-11:30 a.m.
Topics:
• The Art of Creativity: Embracing Inspiration and Curiosity (Oct. 4)
• Resiliency: Guts, Grit and Grace (Nov. 1)
• Relationships: The Sweet and the Sour (Dec. 6)
• How to Be Happy in an Uncertain World (Jan. 3)
• Courageous Conversations: Start with Heart (Feb. 7)
• Spirituality and Aging: Recharging Your Batteries (March 7)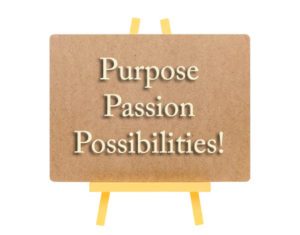 Fee for the series: $60 members, $70 nonmembers.  Register no later than September 25 by mail with your check (Caring Community, Beth Israel, 9001 Towne Centre Dr., San Diego 92122) or online.  
For additional information, call or email Liz Levine, Director of Caring Community, at 858.900.2525 or llevine@cbi